The Sacrifice
May. 14, 1986
Sweden
149 Min.
PG
Synopsis
The Sacrifice is Andrei Tarkovsky's seventh and final feature film. Tarkovsky finished making the film shortly before his death.
Background to the film
---
The Sacrifice was Tarkovsky's final feature film. He made it while gravely ill, knowing his death was imminent.
The film reads as an acknowledgement by Tarkovsky that his time has come. Missing are any attempts to entertain. This slow, difficult-to-watch movie instead says exactly what Tarkovsky wants to say in precisely the way he wants to say it. As such, be prepared for a mighty demand on your attention span. However, know that investing your careful attention is absolutely worth it!
To Sweden from the USSR
An exile from his Russian homeland, Tarkovsky came to Sweden to shoot The Sacrifice. Before, he had been in Italy shooting Nostalgia.
Many who watch The Sacrifice see it as incredibly similar to an Ingmar Bergman film. That's something that both Tarkovsky and Bergman, mutual admirers as they were, would be happy to hear.
Tarkovsky shot The Sacrifice on the island of Faro, Bergman's principle filming location. He also collaborated with some key Bergman partners, like Sven Nykvist, the film's cinematographer, and Erland Josephson, as the main protagonist. Nykvist's exquisite tracking shots in particular give a distinctly Bergman air to the movie.
The Sacrifice plot
---
On a Swedish island lives Alexander (Erland Josephson), a journalist, lecturer, and former actor. The film opens on his birthday.
Alexander lives in a beautiful home with his wife, Adelaide, daughter, Martha, and young son (who is temporarily mute because of surgery on his throat).
Alexander and his young son together plant a tree by the seaside. There, Alexander's friend, the postman Otto, delivers him a birthday card.
After that, a family friend and the doctor who performed the throat surgery, Victor, stops by and offers Alexander and his son a ride. However, Alexander refuses so he can stay and talk with his son.
Thereafter, Alexander, his family, and his friends, Victor and Otto, gather at the family home for Alexander's birthday celebration. However, the celebration is cut short when the television announces that a global nuclear war has begun. 
In despair, Alexander declares to God that he will sacrifice everything he loves, if only all this stops. Then, Otto convinces Alexander that Maria is a witch and that sleeping with her will stop the catastrophe. And so, Alexander does just that. In that scene unfolds one of Tarkovsky's famous floating sequences. 
When Alexander wakes up the following morning, everything seems normal. However, he does not forget the promise he made to God. He tricks his family to go for a walk while he sets fire to their home. When they rush back, he confesses that he started the fire himself.
Maria appears and Alexander tries to approach her before his family stops him. After that, Alexander is taken away by a couple medics and Maria bicycles off. She passes by the mute young son, who is lying at the foot of the tree he'd help plant the previous day. The boy then speaks his only line in the film – "In the beginning was the Word. Why is that, Papa?"
Reception of The Sacrifice
---
Critical response and awards
The Sacrifice was lauded at the Cannes Film Festival. It won Tarkovsky his second Grand Prix, fourth FIPRESCI prize, and also the Prize of the Ecumenical Jury. Meanwhile, at the BAFTAs it won the award for Best Foreign Language Film.
Although critics have pointed out the religious ambiguities in the film, the Catholic Church was full of approval for The Sacrifice's juxtaposition of Christian and pagan ideas. As a result, the film made it on the Vatican's 1995 list of great films about religion, along with another Tarkovsky film, Andrei Rublev.
Quality film reviews
Podcast episodes
Video essays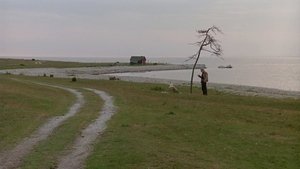 IMDb Rating 8.1 20,191 votes
TMDb Rating 7.8 167 votes